Friday:

Took my last two calcium tablets (1000mg), hoping to avoid the calcium deficiency problems of the day before.

My white cell counts were again very good (even better! 55). Looked like a great day for stem cell collection! One change I made between Thursday and Friday was to remove my sandals: amazing how much they weigh when you sit for 3 hours!

Janet also inter-changed arms: OUT is left (arm), IN is right (hand). You can see that in the following photos (the machine hadn't actually started yet, or the return would have looked redder!). I was looking rather drugged out in these shots, with the amazing Spectra machine: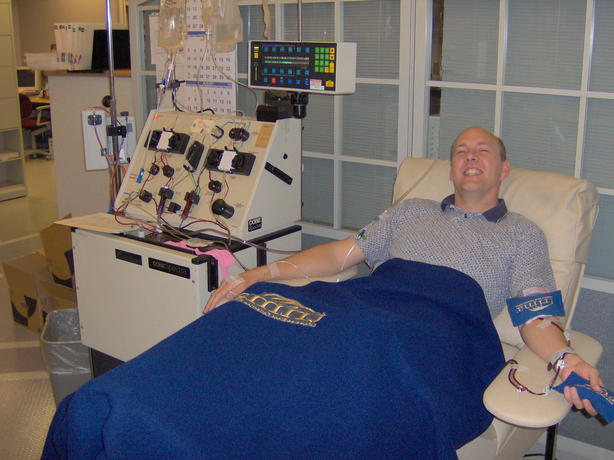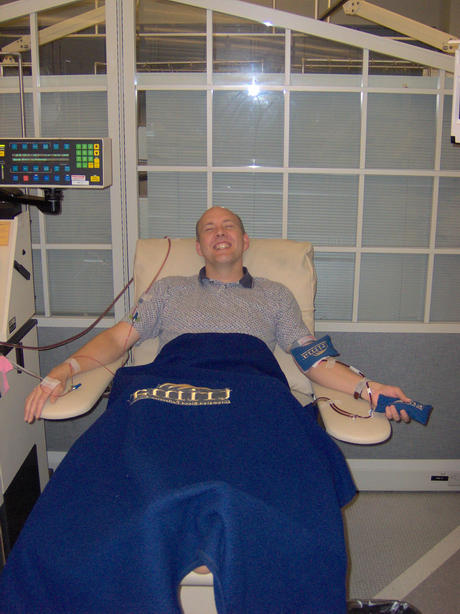 There are several bags hanging: one for the "AC" (anti-coagulant), one for plasma, one for the white cells, and a couple others for who knows what reason!
The things that look like beanbags are warmed in the microwave periodically, and help keep the veins dilated. If they contract, the flow can be reduced or stop.
Gentle Janet, Andy, and Kevin: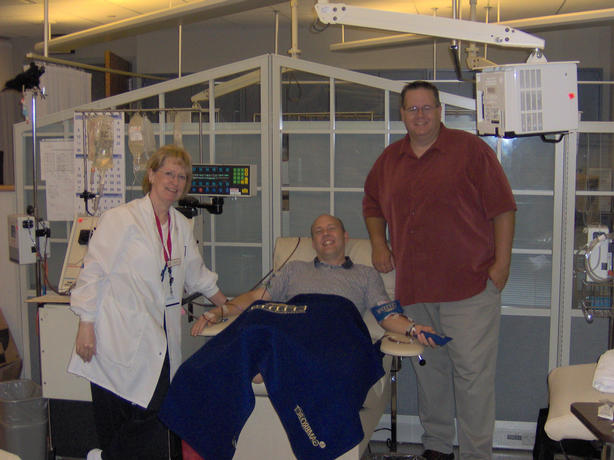 Kevin is the one who managed all the administrative details. He would come by from time to time and cause trouble, joke, tease, goad, chat, etc.
Janet and Sue: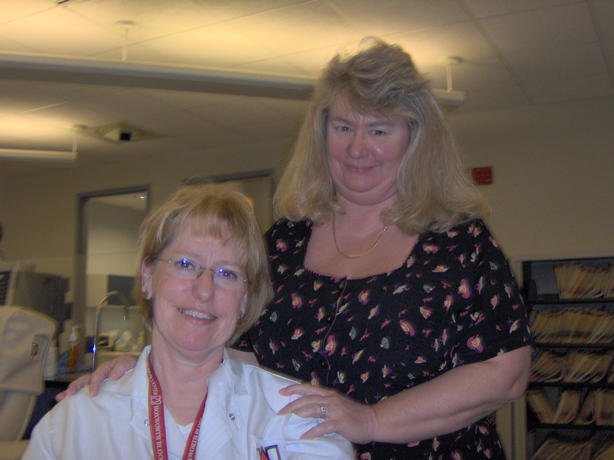 Sue was in charge of monitoring my health and the collection process.
Again, the product was labelled "primo", and everyone went home happy. Kevin told me that my recipient would likely be infused this night! Very exciting....
I sent my patient a note (all anonymous, of course). I hope that it made him laugh, but Kevin assured me that he'd be in no condition to do much laughing. Maybe his family will appreciate it. My most important advice was that the white cells I was sending would not tolerate cheap beer! If he should wish to get in contact, we may after one year. I'll hope that he's around and feeling like it!